The Season of Lent 2022
Wednesday, March 2 to Saturday, April 16
"If anyone would come after me, let him deny himself and take up his cross and follow me."
Lent is a season of the Church Year that calls Christians to focus on repentance and personal devotion in light of the coming celebration of Easter. The forty-day period of Lent connects with many Scriptural events important in the history of salvation: the forty days of the flood, the forty years of Israel's wilderness wanderings, Moses' forty days on Mount Sinai when he received the Law, and Jesus' forty days of temptation in the desert.
The season of Lent is somber. In the Church's worship, a penitential tone is expressed in various ways, both liturgically and visually:
Vestments are changed to purple, a color associated with mourning.
The shout of praise "Alleluia" is eliminated from all acts of worship.
The Eucharist begins with an acclamation that acknowledges our need for mercy. The Celebrant says, "Bless the Lord who forgives all our sins," and the people respond, "His mercy endures forever."
The Gloria ("Glory be to God on high") is replaced by the Kyrie Eleison ("Lord have mercy") and the service music changes to more penitential settings.
The priest's final blessing over the congregation is replaced with a solemn prayer focusing on the Lenten journey.
An Invitation to a Holy Lent
The first day of Lent is Ash Wednesday. On this day Episcopalians, along with many other Christians in different traditions, wear a smudgy cross of ash on their foreheads to remind them of their mortality. This ancient ritual links us to countless generations who have turned humbly to God for help in absorbing the knowledge of our inevitable death in a way that will shape our living. 
In this service, the priest addresses the people, saying:
I invite you, therefore, in the name of the Church, to the observance of a holy Lent, by self-examination and repentance; by prayer, fasting, and self-denial; and by reading and meditating on God's holy Word. (BCP, 265)
We see in this invitation that there are six specific ways in which Christians are called to deepen their devotion in this season:
By self-examination. This means setting aside time to intentionally reflect upon one's thoughts and actions, acknowledging the ways in which we fall short of God's goodness and love.
By repentance. To repent means to have "a change of heart" and to "turn around" from actions and attitudes contrary to God's will. This means honestly confessing our sins to God and receiving his forgiveness.
By prayer. This calls us to take part in the Church's corporate acts of worship as well as the setting aside of time for personal prayer.
By fasting. To fast is to abstain from certain foods or all food for a period of time.
By self-denial. Denying oneself in Lent means giving up certain luxuries, even legitimate pleasures, in order to focus oneself spiritually.
By reading and meditating on God's holy Word. In Lent, believers are especially called to read and reflect on Scripture in a daily way.
Lent puts into practice the words of Jesus: "If anyone would come after me, let him deny himself and take up his cross and follow me." (St. Matthew 16:24) Lent is a time for cultivating spiritual disciplines — whether giving something up or taking something on — that foster spiritual growth.
This growth happens through group activities at church as well as personal commitments at home.
Resources for Lent
Lenten Study Groups
Wednesday evenings in Lent
Starting March 9
6 to 7:30 pm in the Parish Hall
Soup and bread provided.
Embracing an Adult Faith by Marcus Borg on What It Means to Be Christian
Each week we will watch a short video and discuss one of five topics that are central to the Christian life: God, Jesus, Salvation, Practice, Community.  Knitters, bring your knitting and keep working during the informal discussion!
The evening will end with a short service of Compline in the church.  Led by Rev. Sandy Stayner
Sundays during Lent
Starting Sunday, March 6
9 to 9:45 am in the Library
All God's Creatures by John Birch, a Celtic writer
Rev. Sandy will lead a small group bible study in the library each Sunday during Lent, 9:00AM-9:45M.  (Childcare will be provided if needed.  Please let the church office know if you will need childcare so it can be arranged.)  Copies of the study will be provided to each participant.
By looking at scripture and a selection of available information and articles, this study invites participants to think about the issues that are being raised by environmentalists throughout the world, and come to a better understanding of what their own relationship with all God's creatures should be.
_____________________
Lenten Devotional Handbooks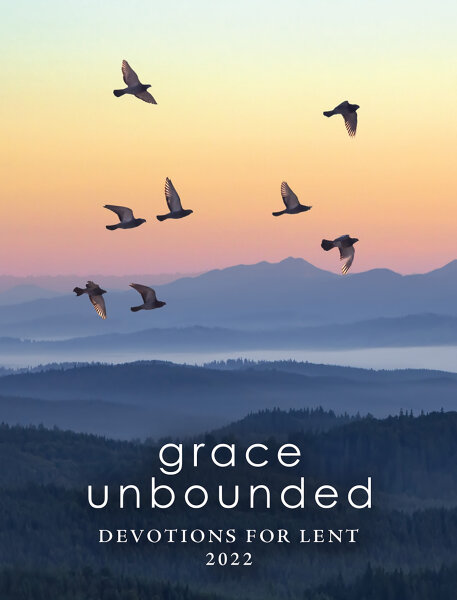 pick up in the Parish Hall or in Outside Covered Box
Grace Unbounded
Devotions for Lent 2022 by Priscilla Austin, Kimberly Knowle-Zeller, Rebekkah Lohrmann, Wilbert Miller, Harvard Stephens Jr., and Troy M. Troftgruben.
Grace Unbounded provides daily devotions for each day from Ash Wednesday to the Vigil of Easter. The writers then bring their unique voices and pastoral wisdom to the texts with quotations to ponder, reflections, and prayers.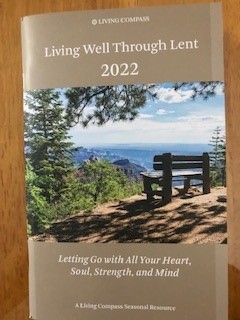 Living Well Through Lent 2022
Letting Go With All Your Heart, Soul Strength, and Mind
"Lent is a time for introspection and self-reflection, a time to reflect on the core of what it means to live a Christian life in the midst of great change and uncertainty. When facing change and uncertainty, few practices are more central to that life than letting go so that we are freer to receive the gifts God has to offer us."
From Living Compass, this 80-page daily devotional provides a foundation for seeking a deeper experience of Lent. You can also go online to received each of the day's readings via a daily email from Ash Wednesday through Easter.
Link to information and signup.
Additional ways to access the Living Compass Lent Devotional:
CLICK HERE to download a PDF in English
CLICK HERE to download a PDF in Spanish
CLICK HERE to receive a Daily Email Lent Devotional
You will receive 47 daily emails, one for each day of Lent, plus Easter. The emails will begin on Ash Wednesday, March 2, 2022.
If at any point you no longer want to receive the emails, you can unsubscribe at any time.